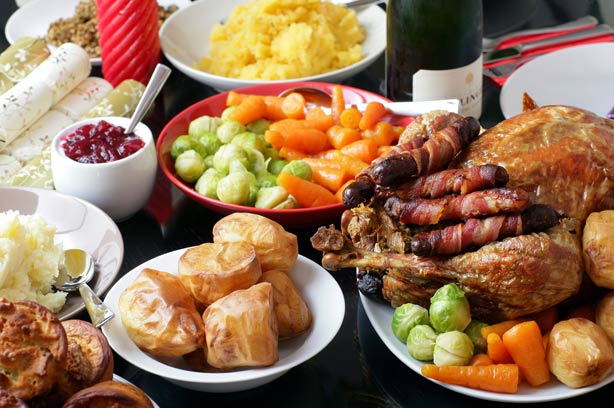 Let's share the Christmas recipes in the commentaries below!!!
1) you can publish only ONE recipe;
2) if you provide a different recipe for the dish which has already been described in the commentary, do it via the Reply button.
A recipe will bring you TWO POINTS!!!
In the United Kingdom, what is now regarded as the traditional meal consists of roast turkey, served with roast potatoes and parsnips and other vegetables, followed by Christmas pudding, a heavy steamed pudding made with dried fruit, suet, and very little flour. Other roast meats may be served, and in the nineteenth century the traditional roast was goose. The same carries over to Ireland with some variations.
Brandy butter

Bread sauce

Brussels sprouts

Chocolate yule log

Christmas cake

Christmas ham - Usually a honey or marmalade glazed roast or boiled gammon joint.

Christmas pudding

Dundee cake, traditional Scottish fruit cake

Mince pies

Nut roast (a popular vegetarian alternative)

Pigs in a blanket - Chipolata sausages wrapped in bacon

Roast turkey

Roast beef

Roast duck

Roast goose

Roast pheasant

Roast potatoes - roasting with goose or duck fat is becoming more popular

Stuffing

Trifle

Tunis Cake